Facebook Messenger comes up with new exciting stuff!
Rreze Hoxha
October 1, 2021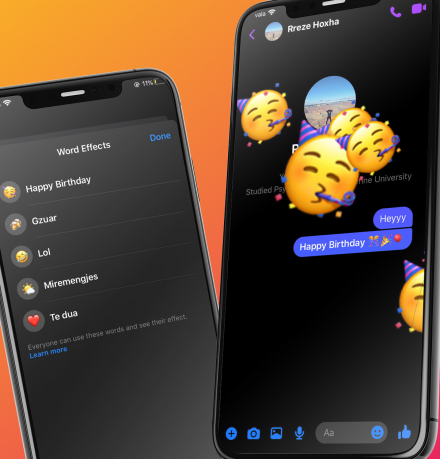 Facebook Messenger has been out for 10 years! Feel old yet?
History of Facebook Messenger
Facebook Messenger or just Messenger, as most people know it, once had the name Facebook Chat. Upon becoming an independent application, Messenger got the name it has today. In 2014, Facebook made a questionable decision. THey disabled messages from the Facebook platform, getting users to have to install another application if they want to chat with their Facebook friends. Whether you liked this or not, it weirdly worked for them!
In fact, Messenger Kids was announced as the second most installed app for the period of 2011 to 2019. This app is a kind of Facebook Messenger created for children under the age of 13. Last year, Facebook added a new feature to Messenger called Messenger Rooms where up to 50 people could video chat together. This now rivals Zoom in growing the pandemic-driven virtual meetings trend.
In addition to changing its logo 4 times (challenge: can you recall all of them?), Facebook Messenger comes up with new updates every time.
Updates from Facebook Messenger
People are no longer the only ones to celebrate birthdays.
Facebook Messenger became 10 years old last month! Therefore, the updates that came out are birthday-themed.
A lot of existing features got birthday-themed makeovers. There are new soundmojis, AR filters, stickers, and chats with birthday designs. But perhaps the most special is the opportunity to send money as a birthday gift, accompanied by fun animations.
We picked these three to share with you…
1. Word Effects
One of them is called "word effects". Probably the best way to explain them is to use an example of something you are already familiar with. You know when you react to a story with an emoji and it fills your entire screen with that emoji? Something similar is brought to Messenger now. The cool thing is that you can assign an emoji to a specific word you send for this effect. Like in the picture above! For example, you can decide that everytime you use the word "congratulations", the screen fills up with confetti emojis.
2. "Most Likely to" Game
Do you know the "Most Likely to" game? Most Likely to, as the name suggests, is when a group of people take random facts (usually funny and ridiculous) and vote for a person in the group that they would be the truest to. What used to be a card game is now on Messenger!
Facebook Messenger has brought this game in the form of Polls. The facts are automatically generated by Messenger. You can find this game where the Polls are on Messenger. You can send it so that you and others gets to vote and see the results.
3. Send a Birthday Present
What's better to gift than money?!
One of the new updates is the feature that enables you to send money as a birthday present. This transfer is possible through Facebook Pay. For a more detailed guide to this option, refer to this detailed article from The Balance. If many of you request an Albanian version, we will post one on our blog page.
Anything else?
You can also expect a cross-app communication between all the facebook owned apps in the future. Just as Facebook has linked our DMs to Messenger, they plan to do the same thing for WhatsApp messages. They are all meant to be intertwined somehow.
In total, Facebook Messenger has released 10 new updates. We are not a hundred percent sure that this number is intentional. Like any other major app update, not all features are released immediately. This process started on August 25 and in addition to the time factor, there is also the location factor. So not only do they roll out throughout a period of time, but where you are located might affect the time and the type of feature that will be available to you.