4 Applications to Help Create Content Fast
Rreze Hoxha
July 9, 2021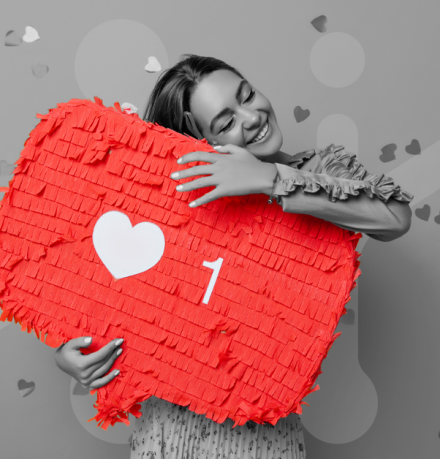 Algorithm fanatics are going to hate me for saying this, but: Post a lot and post often!
Before you can be liked on social media, you need to be seen! And that's the hardest part. For that, I strongly suggest you post as much and as often as you can. Not only is it the most difficult job, but it's also not the only one to get you to results. Once you are seen, you wanna be liked. This can show through literal "likes", comments, shares, and other ways of engaging with your content. Now, your focus shifts from frequency to quality of your content.
Our busy days at work do not allow us to dedicate hours to a single post to make it perfect for us. On the other hand, social networks are super dynamic and require a lot of content to give or raise visibility to your posts. One solution is to post simple organic posts. These kinds of posts would require less time and could still look pretty neat. We can find simple tricks to create more curated content for a shorter amount of time.
You are going to need different tools or applications to help you with the different kinds of content. For example, photo, video, design, and another editing.
4 Applications that help you post content while saving you time are:
Prequel

Prequel is an app that helps you take good photos and videos. There are plenty of unique filters to use for both, photos and videos. It offers simple ways for you to do cool montages. It's one of those applications that really anyone can use and you don't need to know much about video or photo editing.
InShot

Just yesterday I was complimenting a friend of mine on her video editing skills. I was amazed by a video montage of the South Albanian seaside that she had posted on her Instagram Story. And when I applauded her on it, she responded: Thanks to InShot! Those were her exact words.
InShot is a great app to edit your videos on. It doesn't require any previous editing skills whatsoever. Enter your clips, edit them, and voila! Ready to post!
Another really good thing about this app is that you can save your final videos without a watermark. This way you have clean videos to post to any social media platform.
Captions

The chances of your video being successful on socials without any captions are very slight. This is because people nowadays will watch videos without the sound on. But to add captions or subtitles is such a burden! It requires time and effort that you most likely do not have. This is when Captions comes in to save the day! This app adds captions automatically to your videos.
You can also add or edit captions later if you want to.
Canva

I think everybody has heard about Canva by now. This billion-dollar initiative has helped a lot of people to create content quickly. This is such a good and convenient application for creating different designs based on provided templates. You can use Canva to express your creativity without the need to design something from scratch. There are innumerous templates to choose from and they are divided into categories depending on usage. For example, you can search templates for posters, posts, stories, and more. Even the simplest template has endless opportunities for editing and playing with it. The thing about it is, you can do and use, then and there! You'll get even better with Canva when you pass a very quick learning curve with it.
"Ain't nobody got time for that!"
Maybe you wanna grow your personal following, or you have a growing business the requirements of which keep growing too. Or maybe you simply don't have the time, energy, or will to deal with any applications… We can help you there too!
In these cases, we suggest you find a social media agency that you like and trust and work with them together for your online presence needs. You know where we're going with this… HALLAKATE – of course! As the first pure-play agency in Kosovë, we have the right experience in creating, developing, and managing your online presence. From technicalities, creative work, all the way to deeply thought out campaigns. Together, we can take the internet by the storm!