10 Free courses you can take online
Endrit Kryeziu
April 27, 2020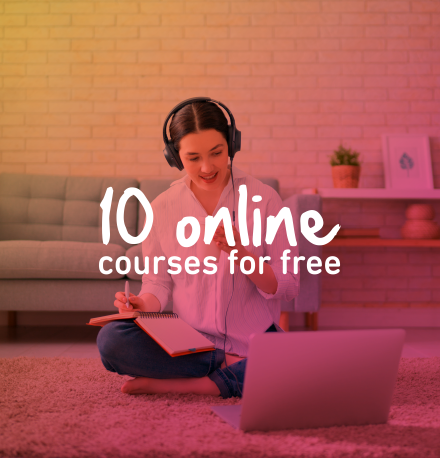 If you still don't know how to spend time at home, here are some of the best online courses you can take for free. All these courses are created by well-known institutes and academies which enable you to create different skills and abilities. Here are the 10 best free online courses we have selected:
Harvard University, as one of the best schools in the world, together with the edX platform offers a list of courses from different fields such as science, politics, sociology, etc.… All these courses are rich in essential knowledge and are created by eminent professors.
Takeaways:
1. Courses created by one of the best universities in the world
2. Simple and clear content
3. Opportunity to choose according to your skills and interest
4. Possibility of certification after completing the course if you pay a certain fee
Duration: you can set it yourself
Rating: 4.7 out of 5
Coursera is an e-learning platform that has recently partnered with the renowned Stanford University to create free online courses. These courses are divided into several categories such as mathematics, artificial intelligence, history, etc …
Takeaways:
1. Opportunity to choose courses from different fields
2. Assistance from the Coursera expert team
Duration: you can set it yourself
Rating: 4.5 out of 5
LinkedIn by Lynda is a well-known online learning platform that helps individuals of all levels learn different subjects. The list of courses includes subjects such as web standards, Excel, programming, digital marketing, etc … Also, some of these courses are integrated with a certification program.
Takeaways:
1. Learn from one of the most popular platforms that guides you through every step of the way
2. Most courses are related to instructional training sessions led by instructors and video tutorials
3. Get access to exams, labs, training sessions and practical projects with selected courses
Duration: you can set it yourself
Rating: 4.6 out of 5
Udemy provides free basic courses for almost every subject on the market and helps individuals create successful careers. Among other things, most courses have a certification program that allows you to get a certificate after completing the course. The list includes various areas such as painting, entrepreneurship, coding, marketing, blockchain, etc …
Takeaways:
1. Help learning subjects in specific areas
2. Some of the courses come with practical exercises and videos
3. You can choose which course best suits your needs and qualifications by answering some questions
4. Help from the instructor
Duration: you can set it yourself
Rating: 4.7 out of 5
Creative Live is not like every other e-learning platform that offers courses in general fields, on the contrary, it is focused on specific disciplines such as music, photography, art & design, handicrafts, etc …
Takeaways:
1. A platform that is fully focused on providing creative courses to discover your hidden talent
2. Learn from famous lecturers
3. Challenges, live events, and new content
Duration: you can set it yourself
Rating: 4.8 out of 5
Facebook Blueprint is a free online training program for advertising on Facebook and Instagram and includes over 90 courses. All you need is a Facebook login to start learning. Facebook Blueprint is a useful way for digital marketers to stay up to date with Facebook's advertising tools and formats. Since the start of this training in 2015, more than two million people have enrolled in at least one of the 90 online courses available.
Takeaways:
1. A variety of courses created by the Facebook platform itself
2. Tutorials and guides to almost any challenge you may face on Facebook and Instagram
Duration: you can set it yourself
Rating: 4.8 out of 5
Twitter Flight School is an online learning platform that teaches you everything you need to know about Twitter ads. Whether you are new to Twitter or experienced, Twitter Flight School offers courses tailored to each level of expertise.
Takeaways:
1. The subjects on Twitter Flight School are uniquely structured to allow you to choose what you want to learn, etc …
2. Once you have completed all the courses, you have access to a whole range of case studies and research to read
3. Access to some solid and in-depth data to help you better build your Twitter strategy
Duration: you can set it yourself
Rating: 4.0 out of 5
Offering more than 30,000 programs, Skillshare covers a variety of categories, such as lifestyle, business, creativity, or technology. Also, once you have completed each course, you will have the opportunity to receive a certificate.
Takeaways:
1. Learn how tools like Illustrator, Photoshop and Coral Draw can be used
2. Understand how to get good traffic to your blog
3. Create projects with each course you follow to demonstrate your skills for the respective subject
4. Communicate with a community of 7 million contributors and creators
Duration: you can set it yourself
Rating: 4.5 out of 5
YouTube certification is a series of courses created to help creators and qualified partners use advanced YouTube systems and tools. And they focus on concepts such as rights management and advanced analytics.
Takeaways:
1. Learn how to make money on YouTube
2. Learn how to monitor data on YouTube Analytics and reports to resolve revenue changes and maximize revenue opportunities
3. Find out why it is important to consider copyright when publishing online content
Duration: you can set it yourself
Rating: 4.9 out of 5
Hubspot Academy is another platform that offers free online courses to increase your skills and create competitive skills in the job market. These courses are focused on areas such as business, marketing, social media, SEO, etc.
Takeaways:
1. Practical, simple and clear courses
2. You have the opportunity to keep track of your process
3. Quiz after each level to stay active
Duration: you can set it yourself
Rating: 4.5 out of 5
Source: edX, Coursera, LinkedIn, Udemy, Creative Live,
Facebook, Twitter, Skillshare, Youtube, Hubspot .