Chatbots – Why should you use them for your business?
Rreze Hoxha
August 20, 2021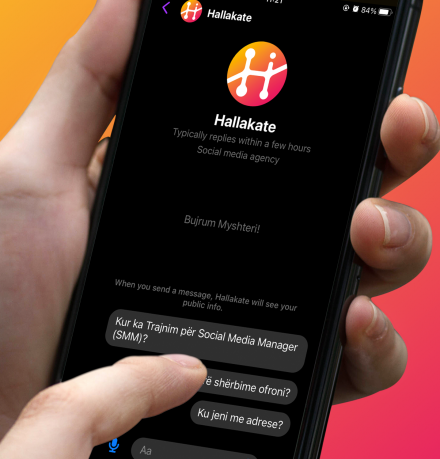 Overwhelmed with messages? Chatbots are here to help.
If your business has taken off online, it is very likely that you are facing an overwhelming amount of messages. Responding to each and every one of them takes 24 hours, every day of the week.
If you are running a business, you for sure do not have that time. Especially when you know that a lot of those time-consuming conversations do not end in sales. So, what do you do?
Short answer – chatbots. Long answer… ?
What's a chatbot?
A chatbot is a software program built to communicate with people. You too can install or personalize one. Chatbots can be set up to work 24 hours a day, 7 days a week. This virtual assistant serves clients by enabling them to converse with real people. Chatbots can communicate in writing as well as in speech. They have a wide range of usage, across different fields, such as: education, e-commerce, news, etc.
How do I get one?
Social networks like Facebook and Instagram have integrated chatbots, which you can personalize and set up. You can go to Facebook Settings and set up your desired responses to Facebook Messages and Instagram DMs. The procedure is similar on all platforms that have their own chatbots.
But, setting up chatbots on socials is easier said than done. Fortunately, we have good news! During our Social Media Managing Training program, Hallakate's co-founder and trainer Valon Canhasi explains step by step how to automate replies on Facebook Messenger and Direct Messages on Instagram.
Even websites have chatbots. Like any integral part of the web, the chatbot must be built along with other features of the site. So if you didn't develop your own website, ask your developer to set up the chatbot on your website.
Bigger corporations in Kosovë, such as phone service providers, use chatbots via text messages as well.
Where did it come from?
In the 1950s, Alan Turing developed the Turing test – a criterion for measuring the intelligence of a computer program. The first computer program to convince people that they are talking to a real human was ELIZA.
ELIZA can be considered as the first chatbot. It was created by the American-German computer scientist Joseph Weizenbaum in 1966. Every chatbot following ELIZA operates in a similar way. They are programmed to give certain responses to specific keywords. For example, if you write the word "heat", "wind" or "rain", the chatbot responds with something about the weather.
You can program a chatbot to give only one response or pitch. It can give back fixed responses or a different one depending on the keyword that it recognizes.
What's a chatbot for?
In some of the latest data released by Facebook, 56% of people state that they would prefer to message customer service over calling them on the phone.
Chatbots make it possible for customers to access businesses without the expense of human representatives. They can provide answers to a ton of customer questions. This used to be done by long tedious lists of FAQs and Q&A, customers no longer have to read through to find what they're looking for. In addition to giving a more pleasant experience, chatbots are known for saving time, money, and effort.
How to use a chatbot?
You've probably talked to a chatbot, whether you know it or not.
For example, you log on to a computer to search for a product, and a pop-up shows on a web page asking if you need help. You have probably used audio search at least once in your life. Or, you wrote to a business or office outside of working hours and got back an automatic response notifying you of their working hours. All of these are examples of chatbots.
What does it help with?
The world of chatbots is evolving rapidly. Although there is no one exact answer as to why this is happening, one thing's for sure: chatbots are super helpful in creating and maintaining customer relationships.
Some of the areas of their great impact are:
Content marketing – providing knowledge and information from different fields
Customer service
Announcements – personal reminders
Website navigation
Online purchase and order
Product consulting – recommendations based on potential customer preferences
Competitions – receiving applications
As needs, requirements, and expectations of customers increase, the use of chatbots will grow accordingly.
What are the benefits?
Chatbots are one of the many benefits of online marketing. These fast and low to no-cost customer service agents are constantly growing. Since they are still developing and relatively new to the market, you can use them to get ahead of the competition.
Want to move one step forward? Use chatbots!
Time is money – Save both!
Chatbots can handle up to 70% of the tasks that a real person performs. So, you can avoid hiring a person for the sole purpose of answering customer questions.
Time is an irreplaceable resource. Clients or potential clients demand prompt responses and tend to lose interest or quit on your services when they do not get them. Chatbots respond immediately and maintain the continuity of all conversations with clients.
It is very important for a company that customers are left satisfied with their services. Therefore the impact of bots is a positive one. Customers can ask questions at any time without having to do the research themselves, go to a web page, or send emails.
Chatbots are already doing a lot of work. Starting from ordering tickets for various events, booking and checking in hotels, to comparing products and services. They are also used to perform routine activities for customers in the banking, retail, and food sectors. Even many public sector functions are enabled by them. Such as filing requests for local services or resolving billing issues.
Our take…
Robots will not replace people!
Like any other technology, chatbots can complement or help human work, but not replace it. So, we can use them to automate the response process, but only until the work is passed on to people. Interpersonal communication can never be replaced, but it can be speeded up and facilitated with chatbots.