Internship Opportunity
Hallakate
May 1, 2023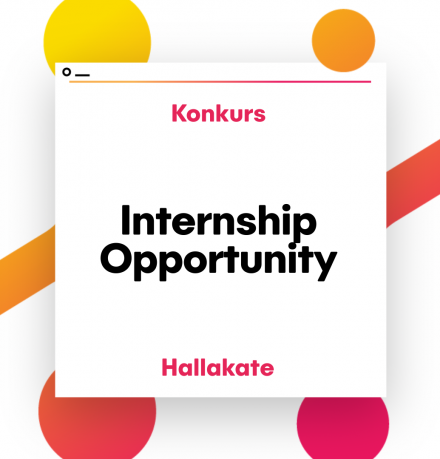 Are you ready to embark on a rewarding journey with Hallakate? As the first pure-play agency in Kosovo, with offices in Prishtina, we specialize in creating, developing, and managing online presence for brands, organizations, and individuals. Now, we are on the lookout for talented and creative individuals like you to join our vibrant team!
We are currently offering internships in the following dynamic positions:
🖋️ Copywriter / Content Writer: Unleash your creative prowess by crafting captivating and compelling content.
📲 Social Media / Campaign Manager: Drive impactful campaigns and manage our clients' online presence.
🎥 Creative Content Creator (TikTok, Reels, Video): Showcase your talent in creating engaging and trendsetting content.
🤝 Account Manager / Client Relations: Foster strong relationships with our valued clients and provide top-notch support.
🎨 Graphic Designer: Transform ideas into stunning visuals and captivating designs.
🎬 Video Editor: Bring stories to life through your editing skills and visual storytelling.
💬 Chat GPT Prompter: Collaborate with our cutting-edge language model, Chat GPT, to develop AI-driven conversational strategies for our digital marketing campaigns.
Who can apply for these positions?
We are seeking candidates who meet the following criteria:
– Available for a full-time, in-office internship.
– Flexible to start the internship at any time.
– Committed to a duration of 6 months.
– Possess relevant skills and a passion for learning.
– Eager to grow professionally in the agency industry.
– Proficient in English and Albanian with excellent writing skills.
In addition, we value the following qualities in our interns:
– Ability to thrive in a dynamic and fast-paced environment.
– Quick learner with a hunger for knowledge.
– Creative mindset and a drive for personal growth.
– Strong team player with excellent collaboration skills.
– Familiarity with digital marketing/advertising concepts and their application in various outreach strategies.
Why should you consider this internship?
✅ We are the leading Social Media Agency in Kosovo, providing you with unparalleled industry exposure.
✅ Our positive working environment prioritizes employee safety, growth, and the achievement of goals.
✅ Your ideas and contributions will shape the way we work and our processes.
✅ With diverse clients spanning across industries, you will gain valuable experience working on different customer accounts and campaigns.
✅ Every individual at Hallakate plays a vital role in our collective success.
✅ Our core values revolve around Growth, Creativity, FUN, and Impact.
✅ This is a paid internship opportunity
If you're excited about joining our team, send us an email at [email protected]
Please provide a brief introduction about yourself, specify your field of interest, and attach your CV with the title "Internship (position)".
Don't wait! There's no deadline for applications – we are always ready to welcome new talent to our team!