Internship Opportunity
Hallakate
April 22, 2022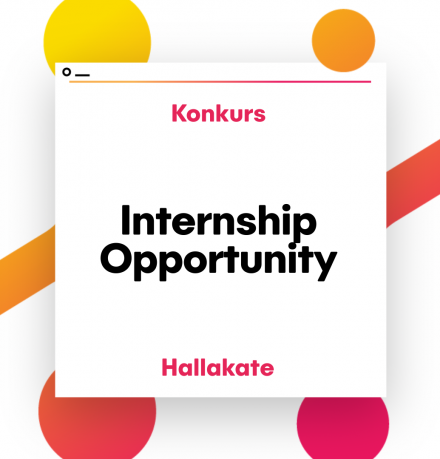 Hallakate is the first pure-play agency in Kosovo with offices in Prishtina and Tirana, that offers specialized services in creating, developing, and managing online presence for brands, organizations, and individuals!
We are always searching for new talent and energetic and creative people to join our team. We are always looking for potential candidates for internships in the following positions:
– Copywriter / Content writer
– Administrative Executive / Operations
– Digital Marketing Manager
– Campaign Manager
– Digital Data Analyst
– Content Creator (TikTok, Reels, Video, Photo)
Who can apply
Only those candidates can apply who:
1. are available for full-time (in-office) internship
2. can start the internship anytime
3. are available for a duration of 3-6 months
4. have relevant skills and interests and are willing to learn
5. want to grow professionally
Other requirements
1. Ability to work in a dynamic environment
2. Ability to learn quickly
3. Creative and Growth Mindset
5. Ability to work in a teams
6. Entry-level understanding of digital marketing/advertising and how to use the concepts throughout various forms of outreach
Why consider Hallakate:
✅ We are the leading Social Media Agency in Kosovo
✅ A positive working environment and a workplace that promotes employee safety, growth, and goal attainment
✅ You will get to contribute ideas that shape the way we work and our processes
✅ With clients distributed across industries, you will have the chance to work for different customers & campaigns
✅ Every person here is a key player in our success
✅ Our Values: Growth, Creativity, FUN, and Impact
✅ Paid internship
If interested send us an email [email protected] with a brief intro, your field of interest and your CV with title: Internship (position)
Applications are always open!